This is an exciting time to be part of Church Army as we continue to grow our frontline work in addition to implementing the new strands of our DARE strategy in the next three years to further our impact and reach our vision.
We are passionate about seeing communities transformed which is why Church Army is proud to work in some of the toughest communities across the UK and Ireland and make an impact that brings about real-life change. Our Centres of Mission, which are created in partnership with Diocese, are where we deploy evangelists into communities to share faith and empower and equip the local church in mission  and evangelism. We are working hard in our aim to increase to 50 Centres of Mission by 2027. In Marylebone London, we run the biggest women's only hostel which empowers women to end their homelessness and live their lives to the full. We also run the Amber Project in Cardiff which helps over 100 young people each year who battle self-harm; as well as a hostel for young people.
Our GRACEUP values are at the heart of all that we do. We are proud of our committed and passionate staff team who all contribute to our vision of seeing communities transformed. In joining Church Army, you will belong to a community of gifted people who are proud to do what they do, and we work hard to make sure our team know that they are valued for their contributions and know that they are making a difference to the lives of hundreds of people.
Join us, and you will join a fantastic, committed and energetic team, who are delivering real change. I am proud of all our team does, and I hope you can be part of it.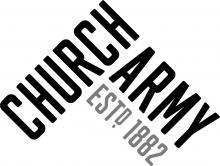 Postal Address
Church Army
50 Cavendish Street
Sheffield
S3 7RZ
United Kingdom
Jobs