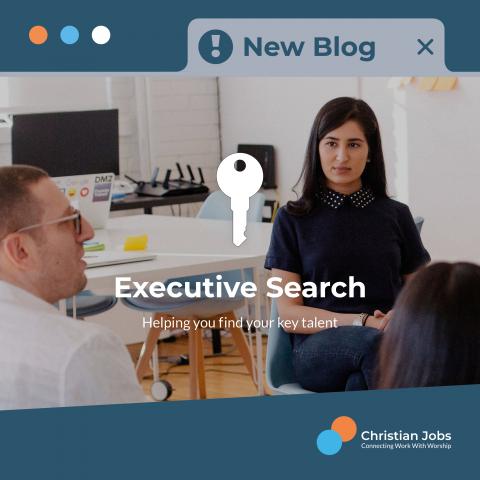 What is Executive Search?
We know that the term "Executive Search Campaign" can sound very corporate, official and intimidating; but what actually goes into a campaign like this?
To find top talent in the current climate is incredibly challenging for a number of reasons. There are so many opportunities for jobseekers now; terms like "flexible working", "remote working", "unlimited holiday" are just some of the ideas that organisations have come up with to tempt people to join them. Not to mention, depending on where you work, you can play ping pong or Xbox on your lunch break, help yourself to the delicious breakfast buffet each morning or even grab a beer on your early finish Friday. There have even been rumours of UK businesses adopting a 4-day working week. With all this temptation on offer it is no surprise that organisations are struggling to attract people to work for them and this is just in the secular world.
Christian Jobs offers several recruitment services including:
Job advertising is the most common approach for organisations. They publish an advert on our site and we promote it out via our social media platforms, our ever-expanding network of Churches and at any events we are attending whilst the advert is live. We do our best to promote this job to as many people as possible but, at the end of the day, this method is completely reactive and reliant on the right person seeing the right advert at the right time and applying for it. This method is still a very viable option and we have heard some great success stories from organisations that have advertised on our site but it normally appeals to people who are already actively looking for work.
What about people who aren't actively looking?
This is where Executive Search comes in. An Executive Search Campaign is a proactive project which allows Christian Jobs to engage with prospective candidates who are not necessarily actively looking for work. We still advertise the role on our site and through social media channels to ensure we are capturing any active jobseekers as well but our main effort goes into the proactive search.
First things first, we come to meet with you and do a thorough intake session. This involves us meeting the senior leadership team including the person who will be managing the new hire. We meet the wider team, explore the office environment and go through the role in detail. We make sure we know exactly what you are looking for in an ideal candidate. We break down the different characteristics and experiences you are looking for and allocate them into either essential or desirable categories. We represent your organisation when we conduct an executive search campaign and as such we make sure that we know everything we can about your organisation so we can represent you confidently and professionally when speaking with candidates. 
What's next?
We use headhunting techniques, talent mapping, market research and networking to help us to identify the best people for your role. Most of the positions we work on have a GOR "Genuine Occupational Recruitment" attached to them and we specialise in recruiting Candidates that have an active Christian faith which is not the sort of thing you normally see on a CV. We grow a 'long list' of potential candidates who match the brief taken at the intake session and we then go about contacting these individuals. Christian Jobs has a combined 20 + years experience in recruitment and executive search campaigns so we know what we are doing. We conduct in-depth qualification interviews with every candidate to make sure we are finding the right match and then present you with a shortlist of the best Candidates for the job.
Recruitment has developed a bad reputation over the years but we believe that it is still an essential service and more importantly we believe that it can be done ethically and professionally. We call this process "Redemptive Recruitment" and believe that as a Christian organisation ourselves we should be setting the example.
If you think that you could benefit from a more proactive recruitment process or would just like to learn more about how we might be able to serve your organisation, please contact us by email: mark.cherry@christianjobs.co.uk or call 0161 946 3550.