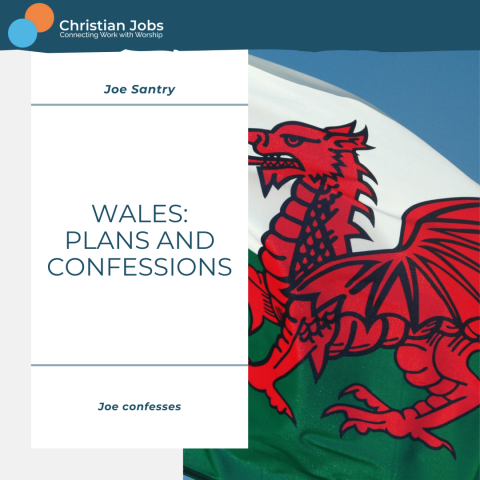 Confession
I think Wales are my second team in this Rugby World Cup purely because of the craziness of their fans especially when head to toe in daffodil gear cramped into the Millennium Stadium. Disclaimer: Wales beating Australia has nothing to do with my support for them. Honest. 
I have always had a love for Wales. My grandma's family have had a caravan on the same site in Rhoscolyn, on Anglesey, since the 1940s and we still go every spring bank without fail for a weekend of wind-swept sunbathing on the beaches. Some of my earliest memories involve playing hitting/kicking/throwing balls in the caravan enclosure with whichever family members weren't sick of collecting said balls from under trees, in brambles and over fences. Unfortunately, all this time practising didn't result in a call up to the national rugby team hence why I am currently in Wythenshawe rather than Tokyo.
My New Job
I was overjoyed when I started my new job at Christian Jobs and they asked me to focus on how we can better help and serve Christian organisations and churches in Wales. It is almost Christian Jobs' first birthday (head over to our social media channels to enter our competition) and we are looking to get alongside more organisations in Wales in our second year than in our first year.
We hope to work with Christian organisations and churches and offer our help and expertise regarding recruitment and job advertising. If you think we could be of any help to you please don't hesitate to contact me by emailing joe.santry@christianjobs.co.uk.
Snowdon 
This Spring Bank holiday when we went to Anglesey, a group of us decided to climb Snowdon on our way (like you do). Foolishly, I think this was originally my idea even though I am terrified of heights! However, we all survived and, despite not being able to see past the end of our noses for most the way up, we had a fantastic time! 
If you are not afraid of heights I recommend combining a trip to Snowdon with a visit to Min y Don, a Christian Adventure Centre based in Snowdonia. With over 15 exciting activities to try out it is the perfect place to get your adventurous fix. 
More than just the Coast Road
Incredibly, despite going to Wales around 50 times I have only ever been along the North Wales Coast Road to Anglesey and back. I am certain that there is much more to Wales than just the North Wales Coast Road. I love the peace and tranquillity of Anglesey and the surrounding area but would love to explore more of Wales!
I am planning to visit Wales (probably not Anglesey) at the end of November/ beginning of December so would love to visit as many organisations and churches as possible to learn more about the work they carry out and discuss if we could help at all. If you'd like to meet please let me know by emailing joe.santry@christianjobs.co.uk. Please don't hesitate to get in touch if you are looking for some help in advertising job roles or recruiting candidates. We would be thrilled to work alongside you.
I'll continue supporting Wales as my second team throughout the World Cup and wish the Welsh team the best of luck.