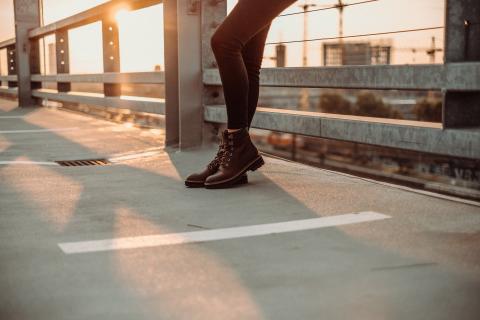 In June 2017, I left university with my bachelors in environmental science, a handful of experience helping out charities and a lot of enthusiasm to learn. Like most students leaving university, my bachelors degree didn't lead to an obvious role into the workplace, and after those 3 years of studying, I was itching to escape my laptop and do something very practical, where I could see I was making a difference.
Not having that clear trajectory ahead of me, was an exciting time for me personally but it did raise a few questions; what is the next step for me? Where will I work? What kind of position should I consider? I say it was exciting but it was also a nervous time but I believe that when it isn't all planned out God is taking me on an exciting journey of discovery. A journey of discovery where He reveals more of what He is doing already and how He wants me to be a part of that. Of course, it is also scary at times, to not know what the next thing is to do, and to have to learn to be patient on God to open the right opportunities.
After leaving university I wasn't quite sure where to head but I knew I wanted to serve Him and love people so I took a gap year volunteering in Christian hospitality, sharing the gospel with travellers at the Light House Hostel, Edinburgh; Shelter Hostels Amsterdam and Shelter Eilat, Israel. This was a huge time of growth for me in my faith, but also of realisation of how I wanted to serve God in the future. I knew I loved interacting with people and helping them discover God and their calling but I struggled trying to find an environment that would allow me to do this but possibly not within the charity, non-profit sector.
What I really wanted was to be part of a market-place community of people, dedicated to serving Jesus first and foremost, and not putting any other idols before Him but I also wanted to engage on an exciting career journey that would grow my talents, skills and passions. I wanted to work with my Christian family to run with a vision and build something new. I knew I had a lot of enthusiasm but I wanted guidance from wiser, more experienced, trusted people, to channel that into skills that had quantifiable value.
I had a couple of options interested in taking me on (or at least having a conversation), places I dearly love and cared about. However, it was crucial for me that I could see clearly what I was committing to, and have a very clear vision for where the organisation was going as well as clear idea of what would be expected of me within my job role. I wanted to be challenged within my capabilities at my workplace. I didn't want to be left making tea orders or thrown in so far at the deep end that I would be overwhelmed and wouldn't be able to cope. So, I prayed that God would connect me with the right role and the right people so I could be used for His glory.
I firmly believe for all young people looking for a role you want to commit yourself to: take time to get to know yourself, your boundaries and how you thrive best. Take time out before you commit to a community for the long term. Jesus is big enough to use you, exactly as you are to contribute to a bigger picture which you can't see in all it's depth now. You do not have to take on an impossible challenge that you aren't ready to carry because God will have a different direction for that, which you can't foresee. Equally, God wants you boiling over with excitement about His work which He has invited you to be a part of.
Having taken some time to think and pray about where I felt God was directing me I finally landed at ChristianJobs.co.uk - an employment platform passionate about connecting Christians to Christian Opportunities. I am excited to be working at ChristianJobs.co.uk. I work everyday with a family of multi talented and Jesus-focused people. We daily remind ourselves that this work is not for our boss or for money, but for God; that we can encourage and support the body of Christ with the skills, vision and resources we have. I love being part of a new company, and getting to witness the vision unravel more and more. But most of all, I love how my work behind the scenes can support my brothers and sisters across the world in finding exciting Christian led opportunities as well as supporting existing organisations trying to connect with Christian talent. Most of all I love knowing that everyday people's lives are being changed by encountering the God who loves them.