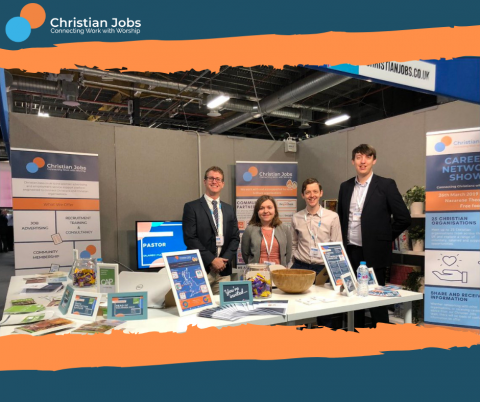 Unlike my colleagues at Christian Jobs, I had never attended an exhibition event of this scale. The closest I had come were the numerous student society fairs I had attended throughout university, where every organisation had a table, table cloth and a sign up sheet. As we dismantled our office furniture, sent out literature off to print, designed the flyers I knew two things; firstly that CRE was not going to be like my student society fairs, and secondly my directors at Christian Jobs do not do things by halves, they had thought about every little detail and had not spared expense. On the morning of the first day I walked into CRE to see the homely interior of our entire office replicated within a 9 metre squared space complimented with banners, flyers, free gifts and mini community member exhibitions on the desks.
Personally I believe I am an extrovert and have a huge passion for hospitality and customer service therefore to have this space available made me smile as the opportunities to converse and showcase what we do began to dawn on me. However, our exhibition space was not only there so that people could discover us and the work we are doing more importantly, it became a space where people shared with us their own journeys and struggles in following God's guidance for their lives. So it was a joy to be able to advise and guide them in an organic manner.
The recruitment industry generally has a bad reputation, however we are the first point of call who people come to in order to explore their giftings and their passions. At Christian Jobs we want to honour each individual on their life paths and serve them in that. We know that the job you pursue and tirelessly work within is a personal thing and it is a huge honour to work in an organisation who lifts up our clients and job seekers in prayer.
At CRE people flocked around our counters sharing their own stories and I visually saw how God wanted to use our organisation to bless and equip people in their work life. Through working with over 300 Christian organisations, we were able to share with individuals other organisations who share their vision.
Not only this, but we could pass on information and books from other organisations. At the beginning of the first day our bookshelves were packed with books and brochures from our community members, such as Christians Against Poverty and GFA World. By 4pm on Thursday, all our books had been taken and our prayer is that these stories will serve people in their next steps.
My biggest learning is that we have huge potential to serve individuals and Christian organisations and that there is a real desire for what we offer. It was exciting to see my Director's vision played out in numerous ways and in thousands of conversations and I am excited to discover how God will guide the future of Christian Jobs.
To every person we met whilst on the stall, we pray that God will bless you on your journey to glorifying Him in your work.