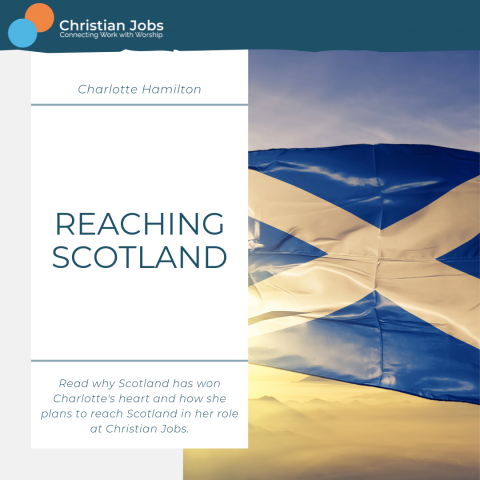 Reaching Scotland: The Lowlands, The Highlands, The Islands and beyond!
Starting my new role at Christian Jobs I was tasked with the challenge of reaching Scotland, in not just the big cities but the Lowlands, the Highlands, the Islands and beyond! I've been engaging with as many Scottish Christian organisations as possible to see how we can best support them. I also entered into a detailed research project looking into how we can best serve those organisations through our bespoke Christian recruitment platform, Christian Jobs.
From The Views To The Food
Scotland is one of my favourite places, from the incredible views to the delicious food - I just love it!
I love how the word 'burger' sounds in the accent, I love the relaxed vibes from the people and places, and I just love the scenery - dog walks are my favourite! My family and I have been going up to Argyll for holidays for the last decade and my parents have lived in the Highlands for the last 4 years, so I get to enjoy it regularly. (You'll be pleased to know that my dog, Fudge, has adapted well to the move from Suffolk to Scotland and she also loves the walks)!  
The Scottish Way Of Life
After living it up and living like a queen on a student budget in my final year of university, I needed to save up some money by living rent-free for a Summer before I could then move out and live the graduate life. So I moved up to Scotland to live with my parents and worked there for a Summer.
The friends I have made from living and working in Scotland made my time up there even better and they couldn't believe I was actually going to move away, they helped me really get to grips with the Scottish way of life. But they were so shocked that I would then move away from this beautiful place and even more shocked that I would be moving that far away from my mum!
My experience is of course from only one, more rural part of Scotland. But from my knowledge of Scottish people and the Scottish way of life, people who live in Scotland often want to stay in Scotland - and of course, they would, it's totally amazing! I love that Scottish roots run deep and that so many Scottish people love staying close to their families.
Who We Are And What We Do
With that in mind, coming into this organisation and focusing on how we can best serve the needs of Scotland, I knew it would be so important to connect people with the opportunities in their regions which is already difficult enough - not to mention the added filter of wanting to work in a Christian organisation or in the charity sector.
I was really shocked to find that there wasn't actually a really affordable service that meets the needs of Scottish Christian organisations - particularly in those hard to reach areas like the Highlands and Islands. There isn't already a company serving the rural locations as well as the big cities and providing them with a service that prioritises their needs instead of just trying to fit that organisation into a structure that isn't catered for them.
We already have systems in place to do that - now it's just about contacting these organisations and letting them know who we are and what we are about.
Tapping Into The Market
I'm really excited to be getting involved in this project, serving the Christian and voluntary sectors in Scotland. The Scottish voluntary sector actually generated a massive £5.8 billion in 2017, which is more than the whisky industry at £3.3 billion, and it's also closing in on the tourism market at £7.1 billion. But with over half of the overall sector income concentrated in Glasgow and Edinburgh it's really important to us, to of course still serve those big cities but to remember the more rural locations and for the people who want to stay near their mums - to be able to give them that option. (Sorry mum, you know I love you, but Manchester was calling).
So I'm really excited to be tapping into the market in the Highlands and Islands as well as the Lowlands and the major cities. I'm also hoping for as many 'important meetings' in Scotland as possible so I can take advantage of that fresh Highland air in my lungs and hopefully drop in on my folks whilst I'm there and take Fudge for a few more of those walks that we love!
To check out our website and create an account go to www.christianjobs.co.uk 
To find jobs based in scotland click here.
For more information on how you can promote your role with Christian Jobs, please call 0161 946 3550
If you are a part of a Scottish organisation you can get straight in touch with me on 07563131794.