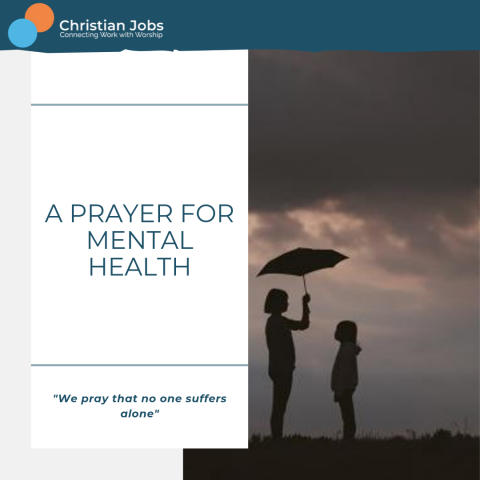 We have been inspired by the work of churches and organisations who are already supporting people with issues such as mental health. The following prayer was written by a church in Birmingham.
It is hard to know who is struggling or how to respond when the situation arises. This is why we have partnered with the Association of Christian Counsellors and Cornerstone Resources, to equip organisations and churches with expert knowledge and resources on who to reach out to for help, when they need it.
This prayer was written by a church in Birmingham, and we want to join them in lifting up this prayer: 
Dear God
"We pray for all people who have poor mental health. This is potentially all people as mental illness doesn't discriminate.
Firstly, we pray for them to have friends and family who understand their illnesses and have the patience and strength to stay with them during their illness. Our prayer is that no-one suffers alone.
Secondly, we pray for people with mental health issues to get the treatment they need from the country's health service.
We pray for the carers, that their needs are also met. We pray for the impact mental illness has on families. Lord you know the tragedy of the suicide numbers.
Be with sufferers and give them hope. Help them to be diverted and distracted. Fill their days with people who will visit, listen and share their experiences.
Ease their worries, decrease their anxiety and panic attacks. Surround them with wise and understanding family, friends and medical staff.
Give to everyone a new understanding of the dangerous nature of these illnesses and prompt people when to respond to emergency situations. Be with those people who stand in the split seconds between life and death and stay their hand.
Help people to feel that they can take some control over their illnesses and help them to cope with their quick mood changes. Help people to accept their illnesses and realise that they do not need to feel guilty when they don't get better.
We pray for healing for the whole person. We thank you that you know each individual's personal experience of mental illness.
We pray across the spectrum of mental illness, from those mildly affected to those very seriously affected.
We pray for people's relationships as they can suffer. We pray for people we know and love who suffer mentally.
Help us to understand more and more about mental health and help the scientists to discover more about the causes and the cures.
Amen."