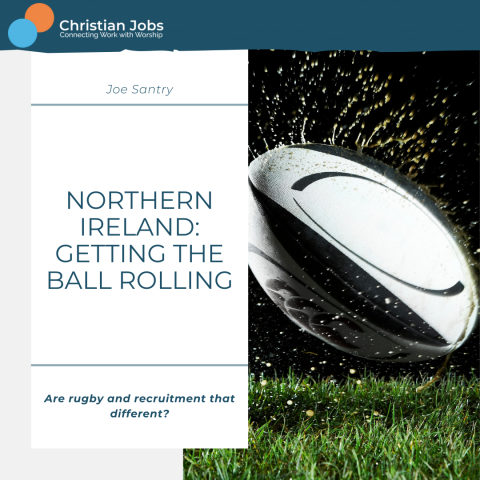 Northern Ireland Update: Getting The Ball Rolling
As September signified the start of Ireland's Rugby World Cup campaign, it also signified the launch of Christian Jobs' focused campaign to help serve more Christian organisations in Northern Ireland. Hopefully being 20-stone muscle machines isn't the key to success for us as we may struggle if that's the case. Although one of our directors has started going to the gym at lunchtimes!
Our first birthday is coming up next month (look out on all our social media for special surprises) which is incredibly exciting and, whilst we have had a tremendously successful first year, we realise that there are ways we can better serve Christian organisations and churches in Northern Ireland. 
Scout The Field
One of the first things we did when launching our campaign was to scout the field and investigate what organisations and churches in Northern Ireland were looking for in terms of recruitment support. I rang and spoke to lots of organisations such as Logos Ministries International, Society of St. Vincent De Paul and the East Belfast Mission who all offered invaluable insight on how we can best honour their organisations and Northern Ireland in general.
As a Linguistics graduate, I honestly think talking to people with Northern Irish accents all day is probably one of the best jobs possible! If you have some insight that you believe would be valuable or anything that you'd like to see us doing in Northern Ireland please email me at joe.santry@christianjobs.co.uk.
Training Sessions
Christian Jobs have invested time in Northern Ireland, and in me, by holding training sessions to help me and my colleagues serve and honour clients as best we possibly can. These have been incredibly helpful but also fun! Check out Charlotte's blog here on the 'import before you export' training session.
Although our sessions perhaps weren't as physically gruelling as the sessions that the various rugby teams are going through, we were encouraged to tell two of our colleagues who have spent a long time in the sales recruitment industry what we thought of salespeople which was certainly emotionally gruelling for them! 
Matchday
The pressure was on when it was time to present my findings to my colleagues. Just like the boys in green, it was my time to perform. It is my dream to travel to Japan (I have a picture of some cherry blossom next to my desk as motivation) but unfortunately my version of matchday didn't take place playing Rugby in beautiful Japanese surroundings. Instead, I presented my findings to my colleagues in a meeting room in Wythenshawe, South Manchester.
I demonstrated how I believe we could best serve Northern Ireland and we discussed as a company the best strategies going forward. Our social media team have already created pages specifically for Northern Ireland so make sure you start following those. 
Kick-Off
As we kick-off, I am extremely excited to be launching this Northern Ireland focused campaign and am eager to find out how much of a difference we can make in the way that Northern Irish churches and Christian organisations carry out their recruitment processes. 
I would love to meet as many organisations as I can in Northern Ireland and find out about the work they do but also discuss if we can be of any help. If you would like to meet-up please email joe.santry@christianjobs.co.uk.
Please don't hesitate to get in touch if you are looking for some help in advertising job roles or recruiting candidates. We would be thrilled to work alongside you.
I would like to wish the Irish team the best of luck throughout their World Cup campaign and look forward to hearing more about the work charities and organisations are carrying out in Northern Ireland.