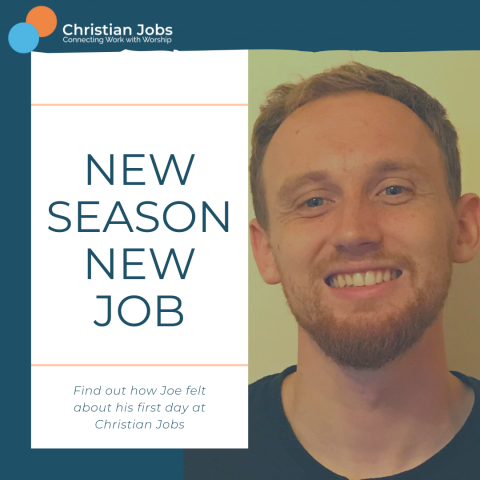 The first weekday in September is, for many people, a day that signifies a new beginning. Teachers tend to be dreading going back to school (maybe that was just my teachers). Students are often excited to see their friends and build new relationships whilst also being apprehensive about the year to come. Parents are usually ecstatic that their little loved ones are going back to school; either because they have their daytime freedom back or they're no longer forking out on childcare fees.
I was feeling a combination of all these feelings as I travelled into Christian Jobs today to start my role as an Advertising Sales Executive. I was nervous to be starting a new role, excited to meet new colleagues and friends and extremely excited and joyful to be opening up this chapter in my life.
My first day began with a team prayer meeting which was a fantastic way to start the day and made me feel welcomed into the family of Christian Jobs whilst also preparing me spiritually for a day of work. Every colleague made an effort to warmly welcome me personally which made me feel at ease immediately. The rest of my day involved receiving an incredible amount of information to process and remember. The most surprising and thrilling discovery made is that I'm not the only employee who doesn't like hot drinks! Hallelujah! Prayer meeting vindicated!
It has been a great day and I have loved starting to build relationships with my fellow brothers and sisters as well as getting a feel for the role and what is required. I have finished the day feeling much more like those ecstatic parents opposed to the fearful teachers and can't wait to learn more about Christian Jobs and my role in particular, whilst getting to know my colleagues more deeply in the coming days and weeks!