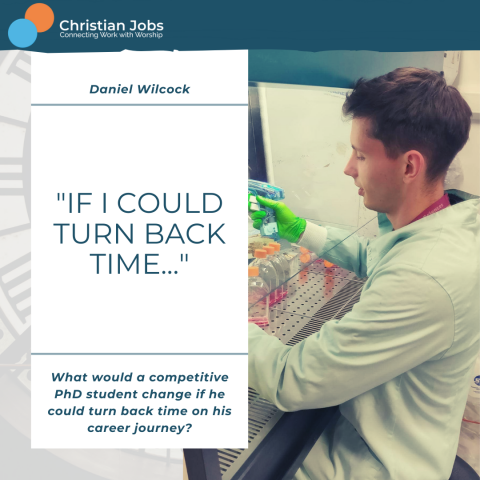 Hi, I'm Dan, a competitive 26 year old who loves anything that is a challenge. 
I love any kind of sport, the more ridiculous the event sounds the better it must be! I am currently entering my final year as a Cancer Research UK PhD student working at the University of Manchester, researching new ways to treat skin cancer.I can't say that when I was younger this is exactly what I thought I would be doing, I can't really remember having a specific dream job. Everything that's happened in my career has kind of been one decision at a time and each decision has been affected by previous experience as I have grown up and progressed. 
Your career journey 
When it came to applying for university I wasn't always 100% sure that's what I wanted. But during sixth form decided I enjoyed science, partly because it was what I was good at, and moving out to university was what I wanted to do.So I went to study Biochemistry with a year in industry at the University of York. It was during my time on placement at AstraZeneca that I decided that a career in science was what I wanted. This is where I discovered that to be a success in science I would have to get a PhD. 
So really my decision to do a PhD wasn't out of a huge passion for earning more or because I just loved pure science, it was actually a result of asking around that I decided that a PhD was a good route to get where, at the time, I wanted to be. Up to now, I love my PhD and I have found a real passion for both science and problem solving.
If I could turn back time...
This might go against the point of the blog post, but I can't think of a specific point where I would honestly turn back time or change things. Maybe that comes a little bit from my personality, that no matter what happens, it is all a learning process and contributes to who I am as a person today. Each move has helped me get to where I am today. It was at university where I met my wife; during my placement year I had my first experience in Manchester and got to know some close friends who still to now, have a hugely positive influence on my life; and back in Manchester now I feel strongly that this is where I am supposed to be and have grown massively at both work and in my faith.
Life lessons...
Although I wouldn't turn back time there have been plenty of lessons along the way, even if I didn't always recognise them at the time. I am a very driven person with a huge drive to be the best I can be at everything that I do. A big learning curve for me was learning to reign myself in and take a moment before going full speed into the next thing without considering the situation or those around me. Secondly, learning that having a faith in a work environment and actually just being different to most people is hard. Not getting involved in gossip or drama or trying to hold myself to a higher standard, but I think as my faith has grown I have found both of these easier, although I'm still a work in progress.
But I prefer to focus more on the positive things that I've learnt. Firstly, never be too proud to ask for help, seek it out! Secondly, seek out people who you enjoy working with, I have had some great mentors throughout my career who have helped me become the best version of me. Finally, be flexible with your goals and aspirations, take on board advice and pray about it, God may change your mind.
Work as worship?
Seeing work as worship is something that is newer to me and has come as my faith has grown during my time in Manchester. But the main thing for me is that God has given us all different talents and using those to their maximum potential is worship to him, so in whatever role at work I try and give it all I have.
If you, like Dan, live in Manchester or are looking to work in the area click HERE for jobs in and around manchester.
If you are a student and are looking for volunteering opportunities and internships, click HERE.
If you are looking for jobs to do with sports, click HERE.