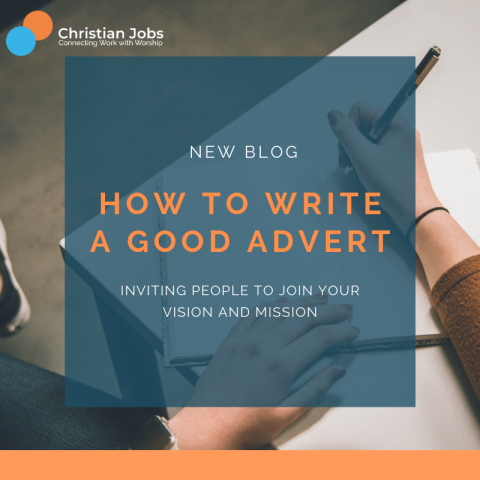 A new opportunity has opened up at your organisation, but how do you write an advert for this?
Your advert will be exposed to people who have never heard of your organisation before, and so this will be there first impression of who you are and how they can make a difference with your team. Your advert isn't just a dissemination of information. Your advert is an invitation for an individual to join and be an advocate of your community and mission. It is an invitation for someone to give their skills and insight to your organisation and in return, be invested into. 
You may have been working at your organisation for months/years, but it is important to take a step back and consider how you convey your organisation and this role to someone who has never met you before. Try to anticipate questions an individual may have, and flesh out the role as much as possible.
We advise at ChristianJobs to break an advert down into four parts when writing it, and below I will expand on to these details.
Bait This is your 140 character summary that will appear on the job listings page. You want to use this space to demonstrate how you have a unique and exciting opportunity. Someone will decide whether to click on your advert to find out more based on this intro, therefore try to ensure it excites people to find out more. 
Hook These are the critical components that people want to know when searching for a job. Salary. Location. Job title. These will appear the the right hand side of your summary on the job listing board, therefore make sure you complete these details when uploading the job advert. Avoid using job titles that are confusing, as people are less likely to click on a role when they are not familiar with that role before.
We encourage you to include a salary range in the advert, as it gives an indication of the level of experience you are looking for, as well tells people straight whether this is a salary they can live off.
Reel Someone has decided to click on your advert to find out more and this is the bulk of the advert where they really get to know your organisation and the role they will be doing. Below are some important details to include. Make sure to break up this text with clear subheadings to make it approachable to read, and include pictures and videos. At ChristianJobs.co.uk, we want your advert to fully tell your story, so we don't charge you for including these.
Culture: Briefly introduce this person to your organisation in one paragraph. What is the heart and mission which drives your organisation and your team? What are the people like who the successful candidate will be working with? Videos are a great way for someone to visualise working in that space, with those colleagues, and clients, and you can include these in your ChristianJobs.co.uk advert for no extra cost.
Responsibilities: what will their job involve day to day? Admin? Outdoors work? Meeting face to face with people in need everyday? List the day to day tasks they will be responsible for.
Person Specification: What experience or qualifications would the successful candidate need to have, in order to be equipped to do this role? Be broad instead of narrow. Consider if each requirement is essential or just desirable. There may be people who could do really well in this role, who may not apply due to not meeting all the essential criteria. If it is not essential to the role, don't include it within the essential criteria list.
Who will they report to as they begin this new role? What support will they have as they move in to this role? Are there opportunities for career development?
If your role has a Genuine Occupational Requirement, make sure to quote the GOR as well as justify why it is necessary to the role.
For example
          In accordance with Schedule 9 of the Equality Act 2010, there is a Genuine Occupational Requirement for the successful  candidate to be a committed Christian, as you will be expected to lead prayer with individuals as part of your role.
Land End on a call to action.
Include a name and number of the person they should talk to if they have any questions, and make it very clear how they should apply for this role. Should candidates complete an application form, or should they send a CV and a cover letter across?
If you have any problems or questions about uploading job adverts to the site, just give a call on 0161 946 3550.
When uploading your roles to the site, do not use Internet Explorer, as it is not a safe browser to use, and you will have issues with uploading information. Instead use browsers such as Google Chrome or Firefox.