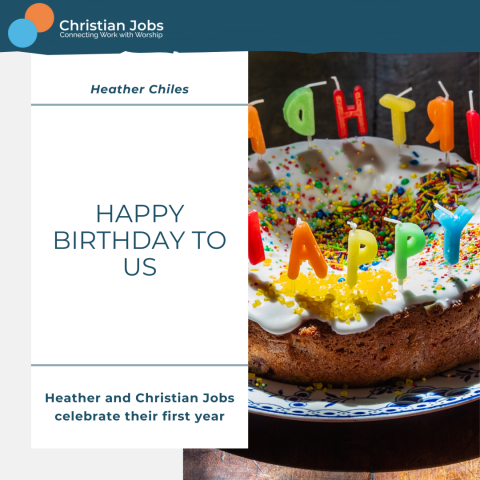 First Year
This has been my first year towards a new career and it has been a joy and a challenge to share it with the first year of Christian Jobs existence. I returned to the UK after volunteering abroad and somehow managed to land myself in a job with a company that at the time had no public website but a wealth of ambition. I started at Christian Jobs one week before the website was launched but already my colleague had been busy for months connecting with Christian organisations across the UK. On our first birthday, I wanted to take a few minutes to reflect on some of the biggest lessons I have been through in my first year with this growing company.
Start-Up
As with all startups, you cannot fully predict what needs will arise, either from your clients or from your own internal team. Over the first year, my role has had to evolve and change as the company has and I have thoroughly loved that. Once I had come to grips with one project and seen that come to fruition, I would be faced with another challenge that required a new set of skills and insight again. 
Trust and Passion
My directors have nurtured a culture of approaching every hurdle or challenge that has arisen, with trust in God, trust in our team and a passion that there is a better way to serve individuals and organisations through recruitment processes. When I first met my directors in my interview, they were full of excitement for this new challenge that God had called them in to, and I can honestly say they have not lost that excitement. Anyone who has met James within a meeting can testify to this.
Building a brand
All organisations, companies and people are increasingly aware of the need to build a brand that reflects the values they stand by. Building a brand is so much more than a nice logo and colour and we have been determined in every project and meeting to reflect the values we stand by. We seek to offer a professional, high-quality service that shows God's love to all individuals involved, but what does that practically look like?
Practical love in business
These are the values we operate under as a company but what has that meant for us as individuals serving in this business?
We will contact every applicant for a job post we are managing, to show each of them the respect they deserve for the time they have taken to apply for a position.
We praying for organisations and driving across the UK to meet face to face with staff within these teams, so we can understand how we can serve them better.
We get excited about giving away gifts at events we run as well as to people we have served during their recruitment process.
We have proofread organisations' adverts to make sure they are as engaging as possible, in order that as many people will take the time to learn about the role and the organisation.
We help each other out as a team, to build each other up in our strengths, call each other out on our failures and centre ourselves on the God who has brought us together.
Growing as a team
One of the greatest joys working here is to reflect on how we have grown as a team. We have had to move furniture out to make room for more desks, as new staff join our little family in Manchester. Not only have we grown in size but we have grown in skill. In the space of a few months, I have seen every person within the team grow massively in their skills within their respective area, through taking on new challenges.
And this investment was necessary in order that we can best serve the organisations we are working with.
Moving forward
So what does the future hold for us as a team and a company moving forward? This year has been full of testimonies of God's provision and guidance, and we trust in Him to continue to lead us into our second year. 
In our first year, we have attended four festivals and hosted two of our own, in order to connect individuals with opportunities with Christian organisations.
Next year we will be attending many many more, therefore stay updated on what we are up to so that you can discover how we can serve you in your career or in your needs as an organisation.
Stay up to date with Christian Jobs by following us on our social media. 
Facebook: @UKChristianjobs
Twitter: @UKChristianjobs
Instagram:@UKChristianjobs
LinkedIn: ChristianJobs-co-uk