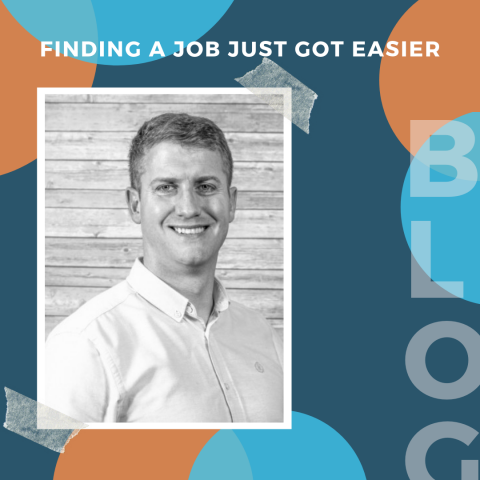 Earlier this year Jonathan Bellamy from Cross Rhythms spoke with christianjobs.co.uk managing partner, James Everall. Here is that conversation:
Jonathan: How did christianjobs.co.uk begin?
James: It's a fairly long story, but I'll give you the short version.
I've been involved in recruitment, talent acquisition, and developing talent strategies, for a number of industries, predominantly within food and beverage FMCG. I've been working in organisations trying to help them develop best practices for how to find the right people, keep the right people, and build future talent acquisition strategies. I've done that across a number of different arenas and I'm entering into my thirteenth year of doing that.
I've been a Christian while doing that. I've been a Christian since I was 16.
About a year ago I felt stirred to do this for a different part of the industry that I was increasingly being brought into, which was more of the non-profit sector. I was doing things for various non-profit organisations, but also increasingly for Christian organisations. I discovered that there was a need to bring some of the things that I had experience into that world.
So that's how we started christianjobs.uk. We found that that domain was free so my managing partner, Rob, and I, purchased that and started to develop a plan for how we can serve the Christian non-profit organisations.
Jonathan: With there already being other sites out there, why is there a need for one that's just for Christians?
James: There are a number of job portals out there that are specific to certain industries and demographics.
With the Christian demographic we are passionate about getting the Christian workforce, Christians up and down the country, whether that's a CofE Christian, or an Evangelical Christian, or someone who's just become a Christian and doesn't really fall into a denomination, just getting them to think about options for them.
From having conversations with people I know and people from my church and other organisations, they felt that it was quite limited for them, so they were looking for an avenue that would connect them to Christian organisations.
The purpose of what we do, is we're saying to an organisation that would want to use our site, you're predominantly going to be viewed by a Christian workforce, or someone who is potentially thinking about your organisation. You can go onto Indeed, there are lots of great ones, and we're not trying to be Indeed or Monster or Totaljobs or CVLibrary. We're trying to serve the Christian community from a workforce perspective, but also from a workplace perspective.
Jonathan: What kind of organisations would advertise on this site?
James: There are a number of well-established Christian organisations that are doing some incredible work across this country. The one that springs to mind instantly is CAP UK - Christians Against Poverty, who were recently showcased on the BBC. They do an incredible work. They're an organisation that is well-known, but is still looking to better itself in terms of finding full-time staff, part-time staff, and volunteer staff.
So we've got large well-known organisations such as CAP, but we've also got some more local Christian organisations that are wanting to raise their profile, or are looking to engage in a certain community, and are trying to attract a little bit more attention.
We've got people who are looking for youth workers, full-time staff, part-time staff, self-funded staff; sales roles, finance roles, and lots of volunteer positions.
You've got roles in Scotland, London, and Manchester. There are opportunities across the whole of the UK.
If you're in sales there are opportunities for you there. If you're looking to work in a mission-minded organisation, there's something for you there. We cater to the whole of the Christian market place.
There are large organisations and smaller ones. There are ones that are connected to other networks and there are independents. So it's widespread.
Jonathan: You're also developing your marketing and promotion to let Christians across the country know that you exist and that you're a portal, for them to be able to find these organisations and vacancies.
James: Yes, that's right.
We've had several conversations with people who have said that they wish they had known that a certain organisation existed. Often they are not terribly far away from where they're located.
So one of the things we're trying to do is raise awareness not just of opportunities, particular jobs, but also to raise awareness of organisations and what they do.
We spend a lot of money on our digital marketing. We are very proactive in how we promote our opportunities on our site. For example, one organisation was looking for somebody in Bristol. We spent a day phoning around the churches and other organisations in areas where we thought people would be interested in this role. Some of our team spent a day calling those organisations to raise the profile of that.
We do a lot online. We've got Instagram, LinkedIn, Facebook and Twitter. We're exploring vlogging and podcasts. So there are a number of avenues that we're trying to penetrate.
Jonathan: Looking at your site, there are different ways that people can search for available jobs, like distance, type of industry, or types of roles.
James: Absolutely. There's a proximity search, which extends from one mile if you are looking for something on your doorstep. Say you're living right now in Norfolk and you are moving to High Wycombe, you can search proximity via towns or cities.
You can also search via categories. If you are only looking for volunteer opportunities, there are tags on the website. You just click on volunteer and it shows you all the opportunities associated with those organisations.
If you are looking for sales roles, or marketing, or communications, or media, just hit the tag and it is shows you everything related to that.
Jonathan: Say I'm a business, but I don't think of myself as a 'Christian business'. I've got a café, or something like that, but I would like to be open to receiving somebody who is a Christian to come and work in my business. Would they be able to advertise on your site?
James: Yes, absolutely. In fact, that has happened. We had a business that sells photocopying machines and printer equipment and a variety of other office hardware products to a number of industries. One of the industries they've seen a lot of success and growth in has been the Church community. They came to us to say they were looking to hire a Christian, because they felt the best person to represent their organisation in that particular stream would be a Christian. They said we don't have any Christians in our sales team, but we'd like to have one. If you're trying to sell to the food and beverage industry, a chef might be a really good person to do that. They have that mentality. We posted it on our site and were glad to serve them.
Jonathan: You've been going a few months now, what's been the response?
James: Christianjobs.co.uk was launched on November 1st. Since that time we have been able to serve over 175 organisations; 175 organisations have trusted our site with their job opportunities. We've had over 280 advertisements nationwide and we've had some international ones as well. We are getting about 5,200 unique clicks per week. It's been an incredible response.
Jonathan: But I know you're not resting on your laurels; you're also diversifying. I know you want to connect very strongly with university students, Christians who are graduating. Tell me about your vision there.
James: We're passionate about serving people. As Christians that's what we're called to do. One of the ways we want to do that is by getting people to think a little bit more, to think intentionally, and strategically about what it is they might choose to do as a vocation, and where they might want to do it and how they approach that.
Personally I'm passionate about connecting with the younger generation, the students across the UK. How can we get them to think strategically and intentionally?
Yes, we have an advertising platform on the website, but we are running student career fairs. We're fortunate to be partnered with Nazarene Theological College in South Manchester who have kindly opened up one of their facilities. We are going to be bringing 30 to 50 Christian organisations together to network and to be exposed to 150 to 200 students who can be considering, during their studies, volunteer opportunities, but also maybe finding out about opportunities they didn't know existed, in organisations they didn't know existed.
We want to try and fuel that stimulus, and try to get people thinking.
We do the careers market place and we also do training and resourcing events. We're looking to bring 20 organisations together to look at things like mental health in the workplace. How can we approach that as people? How can we approach that as organisations? How can we best serve and love the people in our organisation?
We also want to look at the #MeToo movement and how we can start to address that. There are lots of ways we are trying to serve these organisations.
Jonathan: As a growing organisation in need of employees yourself, it's pretty good that you've got such a site to be able to attract people to come and join you too, I guess?
James: Absolutely. Via our site we just secured a communications and digital marketing executive. We posted that as Christian Jobs on the Christian Jobs website. We got a fantastic response. The person started last week so it's been great to bring them on board.
To view the original source of this blog follow click here. 
To begin or continue your job search click here.