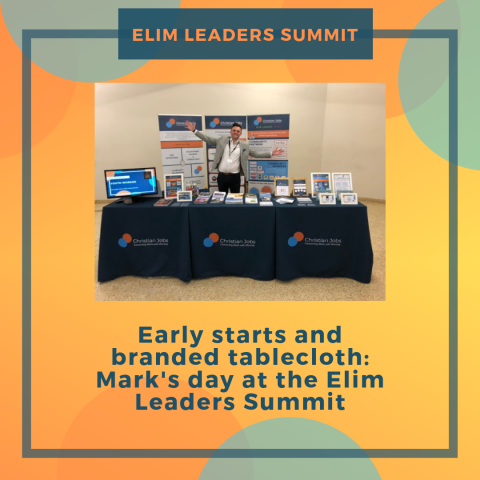 The 14th - 16th May 2019 was the Elim Leaders Summit. Thousands of leaders from across the Elim network gathered together to engage, experience encounter and to be equipped.  
Some of the equipping took place above the main conference hall in the exhibition hall. That is where part of the Christian Jobs team could be found last week, engaging with organisations and being encouraged by all that God was doing. 
Mark Cherry gives his account of his day at the Elim Leaders Summit 2019. 
---
Have you ever been to a Christian Conference before? I haven't and for me this was quite daunting as I genuinely didn't know what to expect. Of course, I have attended and even participated in networking events and a wide variety of conferences but less than a month into my employment with Christian Jobs I would now be standing before over 1500 attendees showcasing how we can serve and support their recruitment efforts.
We had an early start each day setting off at 5:30am from South Manchester but the journey was very pleasant, especially with the lovely weather we have had recently. The sun rising over the peaks as we drove past that odd house in the middle of the M62 (you know the one) set us up for a good start to the day.
We arrived around 7:30am and set up our stand which looked pretty good with our new branded tablecloths and screen showcasing some of our latest jobs. We also had handouts for all our Community Partners, which experience has shown would help gain attraction to our stand.  
Our prayer was that we would be a blessing to everyone we spoke to and the Elim leaders as a community but we were on a mission to make as many Elim churches and key personnel aware of Christian Jobs and how we can help serve and support them. Before the attendees came into the exhibition hall we prayed for a productive day and for God to be with us; and shortly after this we got our first interested parties coming to our stand. It was faith building to see God at work within so many communities and it encouraged us further to hear stories of how God is blessing so many people through the Elim network.
It was great to meet so many people from these Elim communities across the whole country. We spoke with churches that were looking to hire people for social action projects, worship gatherings as well as church leaders looking to help members of their congregations get into faith-based roles with Christian organisations. One of the biggest learnings from the event for me is that so many people spend 70-80% of their time working in secular jobs and the remaining 30-20% of their time working for their church or local community. A lot of these people want to change the balance and spend 70-80% of their time working for their church community or a Christian led organisation and 30-20% in the secular world. They just didn't know how to go about it - or even if it was possible in their area, and I believe that this will become one of the biggest challenges and opportunities for Christian Jobs moving forward.
As more and more people became aware of our existence at the conference the other exhibitors would come to chat with us, eager to learn about our business model and how we could support them and their recruitment endeavours. It was a joy to be able to tell them that 'yes, their is a recruitment and advertising support platform that exists to serve them and help them grow', there was a tangible sigh of relief in these conversations as we chatted about GOR issues, where to hire from, how to source etc.
Overall it was an incredible experience. Everyone we met was really interested in what we did and we handed out many leaflets, brochures and business cards so that our car was a lot lighter on the way home. We left encouraged by what God is doing across the Elim network and also with the 50+ Christian-led organisations he is using to glorify his name. We are looking forward to being back again at the Elim Leaders Summit 2020.