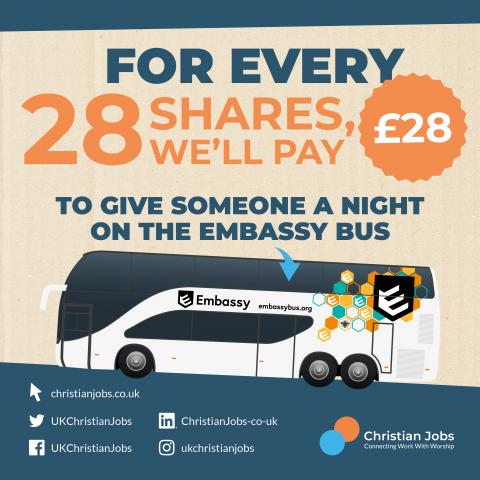 At this time of year, the world gets stuck in the traffic and chaos of the consumerism of Christmas. Everyone's thinking of what they can buy and how much money they are going to spend. 
But also, every year, charity and "good will to all men" seems to clear a way through the traffic and serves as a reminder to those who believe in Jesus and to those who don't, that there is more to the season.
This year we're hoping you'll join us on a special bus to journey through the noise of Christmas and provide a night of peace to those in need.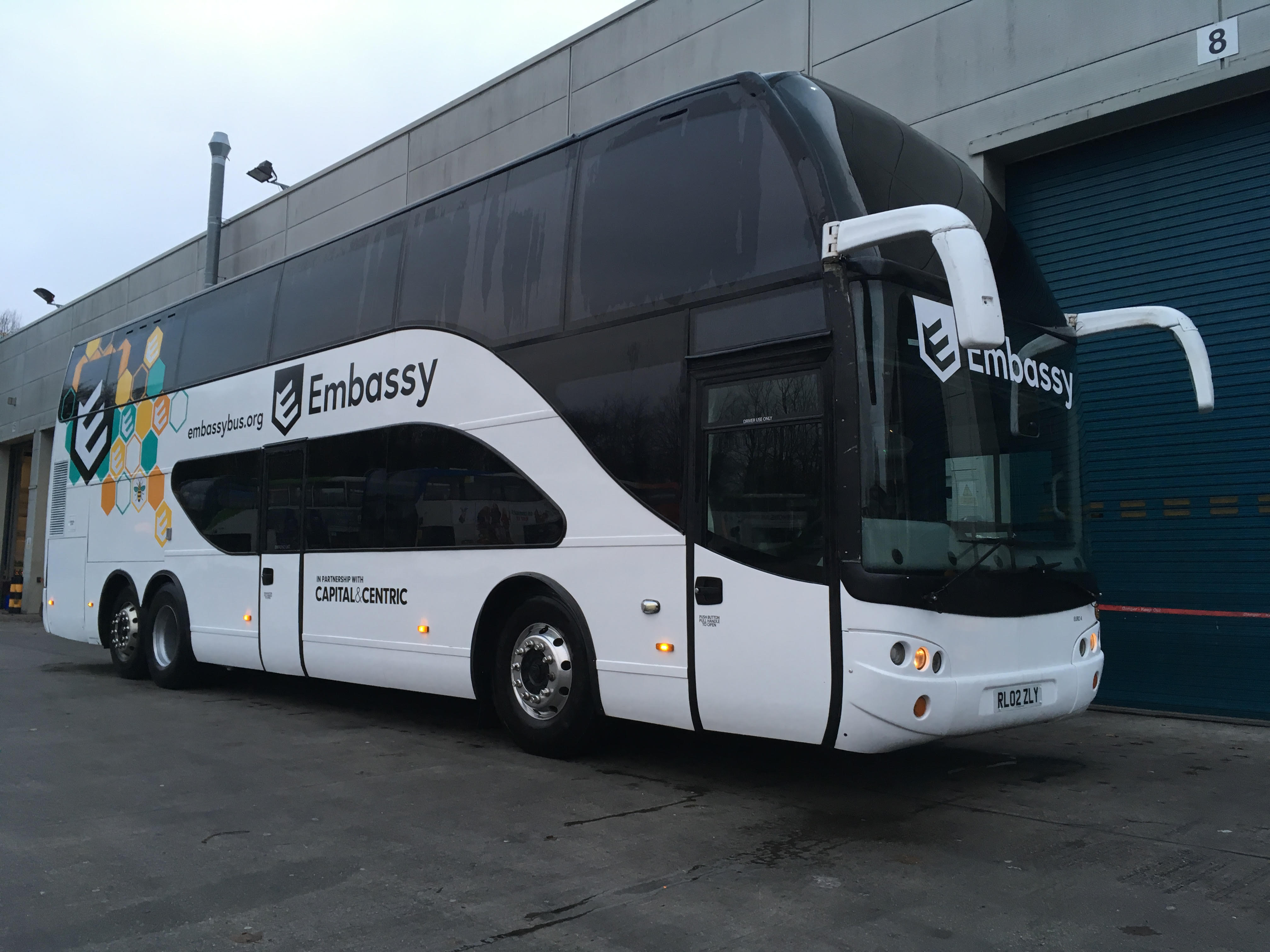 The Embassy bus is a pragmatic Christian response to rough sleeping in Manchester. 
We identified a lack of emergency accommodation in the city but also an even bigger lack of resettlement work. It struck us that if shelters were able to move people on to housing quicker, we might not need more shelters. Shelters generally charge guests to stay and that rent varies from nominal amounts to three figures per week. We also witnessed very few shelters that expanded their activity beyond bed, food and showers. 
The Last Shall Be In First Class
We purchased a luxury tour bus because we felt that many facilities were very basic in nature and we believe that in God's kingdom, the last are first in importance. The VIP tour bus was used by ColdPlay, Tinie Tempah and Snow Patrol. It is double glazed, has memory foam mattresses, private beds and all the latest games, cinema, and plush interior. We team up with Manchester City Mission to provide showers and food and are extremely grateful to them for the partnership. 
Guests love the bus and one chap told me through tears that he finally felt valued because somebody had seen him worthy of this quality of hospitality. A bus is also pretty clever. It allowed us to get started quickly because there's no council legislation for a shelter on wheels, no planning permission to fight for and it can take men to the beach on a Saturday! We also save money as we have no rent to pay as we would have done in a regular shelter. All this saving means we can spend more on the guests. 
Not Just A Bus, It's A Journey.
The bus is not just a really nice place to stay. Council housing waiting lists are enormous and we've met people who've waited in a shelter for 2 years in that queue. The bus is a programme. We work with a growing set of companies who've bought into our vision and partnered with us. They include Hilton, Greenfingers, Astins, Doubletree, Renaissance, Cheshire Scaffolds. They are employing our guests full time and with long contracts to ensure that they can save up and move into private rental accommodation. We've employed a full time resettlement worker who helps them into work, into accommodation and thereafter, regularly visits to make sure the guests are successful in that accommodation. 
We started on the 8th of January and have helped 26 men into accommodation. We've provided over 2,500 nights off the street and shared the good news of Jesus with all who were interested in joining our optional bible and prayer times. We've seen some astonishing answers to prayer and 10 men accepting Jesus into their hearts. 
We're so glad to be partnering with Christian Jobs to promote our Night Off The Street vouchers this Christmas. If you'd like to help or have a frustrating family member who never knows what they want for Christmas, please check out this link to the Embassy shop. https://embassybus.org/product/night-off-the-streets-voucher/ 
Vouchers cost £28 which is the running cost of one guest's stay for one night. If you'd like to support us with regular monthly support, that would incredible. Please also see our website and sign up https://embassybus.org/get-involved/ or email sid.williams@embassybus.org if you'd like more info and would like to gift aid. 
Sid & Tess
---