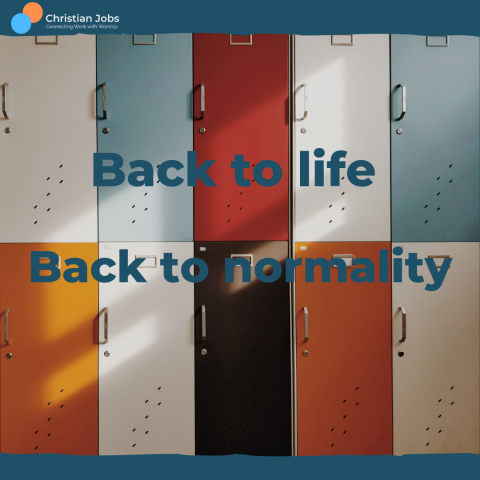 You must have felt it this morning?
Things were different, something had changed. Things were... normal. 
I certainly felt it. The sun has taken off its hat and the temperature has dropped. What once was a 15-25 minute commute over the summer months has jumped up to the 35-50 minute commute I had almost forgotten. The office has returned to its pre-summer "way of being", with no more festivals and conferences to focus on and fewer holidays to work around, normality has descended on us as Christian Jobs. 
What about the rest of us?
September is usually the month we focus on the new starts of freshers and those starting new schools and jobs, but what about the rest of us who are going back to life, back to normality? If you think about it, celebrating new starts is a celebration of someone's new version of normal, so maybe we shouldn't view the two too differently.
I love this quote from Richard Baxter:
"This life was not intended to be the place of our perfection, but the preparation for it." 
Sometimes normality feels grey and boring because we view it like a destination we have reached that is not that exciting. This quote reminds us that we are on a journey (I can't help but say that phrase with an American accent). Therefore, there is no space, place or position in our lives where we should think "this is it". 
Normality, an opportunity for transformation.
I've decided to view this return to normality as an opportunity to grow without the distraction that the excitement and the inconsistency of summer can bring. An opportunity to become more like Christ and to know him more intimately. For me, that looks like getting back to the habits that help with that; daily devotions, meal plans, journaling, back to habits that in and of themselves don't feel that exciting but, when committed to,  lead to the exciting opportunity of transformation. 
At Christian Jobs, we are always trying to connect you with your next opportunity, whether that be for you as an individual or as an organisation. That next opportunity might be a completely new one, but it can also be improving something that already exists. Perhaps your organisations next opportunity is to improve your recruitment strategy. Maybe this is through exploring RPO, where we manage your recruitment process or by becoming a Community Member which provides you with discounts on adverts and additional promotion with us. 
As an individual, maybe your next opportunity is to recognise your work as worship. The bible says:
"Whatever you do, work at it with all your heart, as working for the Lord." (Colossians 3:23)
If you began to view your work through this lense, what opportunities could the normality of work bring? Sharing the gospel with a colleague, completing your work with excellence, bringing peace in a stressful season, these are all exciting kingdom-building opportunities.   
For us at Christian Jobs, our return to normality provides us with the opportunity to train up our new starters. We are so thankful that we have two new additions to the team who are making Christians Jobs part of their new normal. We are hopeful that this will expand our reach and ability to connect you to your next and/or new opportunities. 
So this week, as we return to normality, even if it is a "new normal" let us get excited about the opportunities that normality can bring. 

For more information about RPO click HERE.
For more information about community, membership click HERE.
For reminders that your work is worship follow us on our social media. For links to our social media click HERE
For any other information please contact us on 0161 946 3550