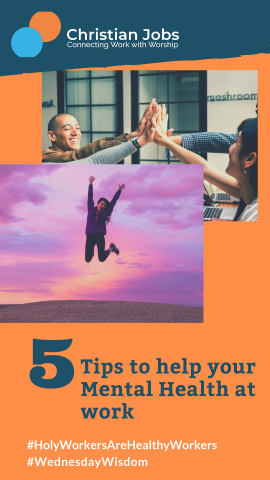 With our Mental Health in the workplace event just around the corner, the topic of mental health has been close to my mind. If I'm honest, its a topic that is always on my mind. I, like many, have had times when my mental health has been a bit "shaky". Instead of seeing the joy in something, I would very easily see the negative. This has caused doubts, anxieties and impacted my effectiveness at times. 
I desire to be effective for the kingdom at all times, using every opportunity to glorify God and witness Him move. I want this throughout my whole life -  personal, Church and Work.
Recognising that my emotional and mental health play a significant role in my productivity and effectiveness in both a secular and sacred sense has caused me to make some changes. 
Here are some of them! These are small tips that can be done at work, or in your own time, that when done consistently I have found helpful. 
Remember #HolyWorkersAreHealthyWorkers. We should be proactive in readying ourselves for the call, remembering that God will provide everything that we need to see him glorified. 
#HolyWorkersAreHealthyWorkers 
Click HERE for for Mental Health in the Workplace - A Christian Response tickets.