Christian Unions Ireland (CUI) is a family of students, staff and supporters working, praying and growing together to share the gospel of Jesus Christ on Ireland's campuses
What do we do?
We support student–led Christian Unions on campuses in Ireland as they share the good news of Jesus Christ with their peers. 
We exist to give every student in Ireland an opportunity to respond to the gospel of Jesus Christ.
Why do we do it?
We want to see students in Ireland becoming passionate, lifelong followers of Jesus Christ.
How do we do it?
Together, our family of students, staff and supporters invest in flourishing, student–led mission on campus. Each has a unique role to play:
Students
Students are at the heart of CUI. We have around 1000 students in 30 student–led Christian Unions across our island. These missional communities are the best way to give students an opportunity to hear and respond to the gospel of Jesus Christ in their university years. 
Staff and Relay
CUI Staff Workers and Relay volunteers are committed to serving and supporting Christian Unions. Currently, we have eight Staff Workers and three Relay volunteers deployed across Ireland, training CU leaders and equipping CUs to reach their campuses within gospel–centred communities. 
Supporters
All over Ireland and far beyond, we have a network of faithful supporters. We welcome the many different contributions of our supporters, whether people are able to make financial gifts, speak as advocates within their churches, volunteer locally with our events; or, of course, uphold us in faithful prayer. 
CUI VALUES
1.      Fuelled by the gospel of grace
2.      Confident in the sufficiency of Scripture 
3.      Joyfully dependent on God
4.      Striving for unity in Christ
5.      Generously serving the Church
6.      Passionately engaged in God's world 
7.      Investing in dynamic student–leadership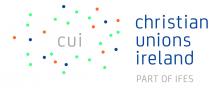 Organisation Type
Charity
Postal Address
6 University Road
BELFAST
BT7 1NH
United Kingdom
Jobs