Our purpose is to strengthen and equip the body of Christ living under or facing restriction and persecution because of their faith in Jesus Christ, and to encourage their involvement in world evangelism.
Open Doors started in 1955, with one man driving a Beetle full of illegal Bibles to Eastern Europe to support persecuted Christians. Brother Andrew felt God calling him to 'Strengthen what remains' (Revelation 3:2) - could God be calling you to do the same?
Today, Open Doors supports persecuted Christians in over 60 countries, and as their needs grow, we need passionate, talented people to help us. Come and use your skills to strengthen the persecuted church, and we'll give you the support and training you need to flourish as you take the next step in your career. Apply to join our team based in Oxfordshire today.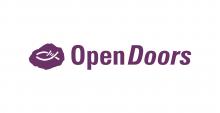 Organisation Type
Charity
Postal Address
Telfer House
Range Road
Witney
OX29 0YN
United Kingdom
Jobs