Youth Minister
St Peter's Church, Tunbridge Wells
Job Description for Youth Minister
Overview
St Peter's Church is looking for a Youth Minister to join a friendly and supportive Ministry team.  It's a really exciting time to join the team as we are blessed to have a number of new young families attend St Peter's and are seeing an increasing number of youngsters joining our regular youth groups.
This is an ideal opportunity for someone looking to serve Jesus, grow in ministry skills and make a real difference to our youth work at St Peter's.  We will support, mentor and train you as you participate in the Sussex Gospel Partnership training or similar.
We are looking for someone who has a real passion for sharing the gospel with young people, who is able to contribute fresh, innovative ideas and approaches for teaching our teenagers and children.  Someone who can engage young people in understanding the Bible, what it means to be a Christian and help them to grow in their faith.
The successful candidate will be able communicate in ways that are relevant and accessible to the younger generation and use their talents (be it music, sport, technology, art or something else!) to engage our youth.
Principles
The Youth Minister will be committed to living out the ethos of St Peter's Church: "Learning together to love Jesus and to love one another," where loving Jesus means obeying him, being filled with the Holy Spirit, and being united to Christ in faith (John 14:15-24); and loving others means protecting, serving humbly, and pointing others to obedient love for Jesus in words, actions and attitudes.
The Youth Minister will either be a baptised and confirmed member of the Church of England or a baptised member of another reformed denomination. They must affirm their full acceptance of the Crosslinks Statement of Faith.
(https://www.crosslinks.org/about-us/what-we-believe/), it being a summary of the Church of England's 39 Articles.
Role Summary
Work closely with our Assistant Minister and volunteer youth workers to review our programme of youth work

Assist in Sunday and midweek youth groups initially, with the expectation that the successful candidate will quickly go on to lead sessions

Prepare materials for youth group meetings

Running specific youth projects as part of regular groups.  Examples might include producing a short film, run a sporting or art event

Assist at events and trips organised throughout the year, including participation in the annual Venture summer camp which St Peter's youth groups attend

Use talents and skills to contribute in other aspects of church life (eg music, art, technology)

To ensure that appropriate safeguarding policies and procedures are known and followed by all youth & children's leaders and helpers
Personal Profile
A person who loves Jesus

A passion for working with young people to share with them and teach the gospel

A strong communicator and team player

Enthusiastic and energetic

Confident in suggesting new ideas and ability to manage small creative projects

Reliable, resilient and adaptable

Wants to make a difference

A degree education is desirable, but not essential
Salary: c£25k plus accommodation allowance
To find out more or if you'd like an informal chat about the role, please contact Mike Warren (vicar@stpeterstw.com)
St Peter's is committed to safeguarding and promoting the welfare of everyone. All post holders must share this commitment.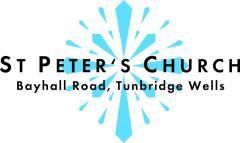 St Peter's Church, Tunbridge Wells
Job Location Type
On Location
Location
Tunbridge Wells, GB
Keywords
Christian Youth Leader
Children's and Youth Worker
Contact Email
vicar@stpeterstw.com