Youth Pastor: 20 hours, plus option of additional 9 hours as school chaplain
About the role
Our Children and Youth Ministry team includes a full time Minister leading this area and we provide a range of provision for Children and Youth in the church, local schools and in the community. We are looking for someone to join the team to focus on our Youth Ministry.
The Youth Pastor is responsible for providing inspirational leadership to Youth Ministry at St Paul's in line with our church vision and Mission Action Plan. As a member of St Paul's staff team, the Youth Pastor will contribute to wider church ministry and mission, planning and implementation of our vision to be 'a growing community of grace.'
The link below will take you to our website and the full job description
https://www.stpaulsdorking.org.uk/Groups/234269/St_Pauls_Dorking/news/vacancies/vacancies.aspx
Interviews will be in the week beginning 11 July. To apply please follow the link above.
Please contact Steve Henwood via the church if you would like an informal chat about the role.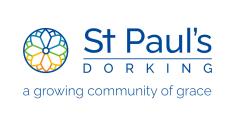 Job Location Type
Office Based
Salary £12,480 for planned 20 hours /week
Term time contract is a possibility
There is an opportunity for an additional 9 hours as a paid school chaplain (separate contract and interview process)
Pension
Contact Phone
01306 743378
Contact Email
steve@stpaulsdorking.org.uk