Housing Support Worker (full time)
Restore seeks to employ a Housing Support Worker to join our existing team of staff providing support to our residents. Full time Housing Support Workers will work with a caseload of around 10 residents and will typically have responsibility for the property management of two to three houses of multiple occupancy.
Person Specification 

Working with vulnerable people can often mean confronting anti-social and challenging behaviour. Issues such as substance misuse, addictions, poor mental health, anger, anxiety and depression are often prevalent within the client group with whom we work. Whilst adequate training can be offered, it is essential that the candidate possesses excellent interpersonal skills (such as assertiveness, communication, resilience and compassion) in order to deal with people who are exhibiting challenging behaviour. It is also essential that the candidate has some level of experience in dealing with people who may present with such issues. In addition to being able to work with people demonstrating challenging behaviour it is also essential that the candidate has strong admin skills as well as being conversant with IT programmes such as Microsoft Office, Email, Webforms, etc. 

Essential
 • Experience working with vulnerable adults 
• Ability to show compassion to people in need 
• Ability to understand the needs of the client group 
• Ability to manage your time and workload independently and effectively 
• Working knowledge of issues around substance misuse and mental health problems 
• Resilience and assertiveness when confronting challenging behaviour  
• Good written and verbal communication skills 
Desirable 
• Two years of experience working in the housing sector. 
• Knowledge of the current framework regarding Universal Credit, Housing Benefit, and other benefits.
Due to the strong Christian ethos which underpins the values of Restore (see below) and its service delivery there is a genuine occupational requirement for the postholder to be a practising Christian.
 
The role is full time (35 hours a week). To apply send the below application form to office@restoreyork.co.uk
Closing date: 21st Jan 2022. Interviews will take place the following week.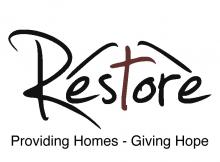 Salary
Between £19,000.00 and £22,000.00 pa
Keywords
Homeless
Support Worker
Supported Accommodation
Contact Phone
07592668921
Contact Email
office@restoreyork.co.uk