Retreat and hospitality centre team members (residential)
Quiet Waters Christian Retreat House
Do you love to serve people using the gifts of listening and hospitality?
At Quiet Waters Christian Retreat House, we provide a friendly guest house experience for those seeking time to rest, think and pray. Our guests find this quiet and safe environment enables and encourages the personal freedom to experience God's love and peace.
Our team needs members with a range of complementary skills. We will use your gifting whether it's cooking, hospitality, leading devotions, offering a listening ear, cleaning, administration, communications / social media, property maintenance, gardening, creative arts or more!
First and foremost, we want Christians who are passionate about what we do at Quiet Waters in serving God and our guests.
We are seeking a married couple to join the team in August 2022 or soon after. Our working model is two married couples, plus a part time housekeeper and part time gardener. 
For further details including a job description, or to have an initial informal conversation please contact the Chair of Trustees, Paul Dunning on pndunning@btinternet.com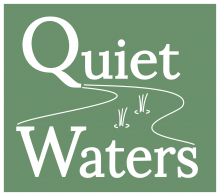 Quiet Waters Christian Retreat House
Keywords
retreat centre
Catering Hospitality Christian
Contact Email
pndunning@btinternet.com