Data Quality Officer
Part-time, 22.5 hours
£13,109 - £14,804 pa pro-rata (£21,848 - £24,673 FTE)
Witney - our policy is a minimum of 40% of your weekly contracted hours in the office, Wednesday being a mandatory office day, with the remainder remote working (this equates to 2 office days per week for a full-time role).
Do you have a passion for our persecuted brothers and sisters in Christ?
Do you have a keen eye for detail and understanding of data administration?
Are you familiar with modern database and information system technologies?
Open Doors is a Christian charity, part of Open Doors International, a global NGO network which works in over 60 countries to support and strengthen persecuted Christians. Last year the UK base raised approximately £15 million to provide practical support to persecuted Christians such as food, medicines, trauma care, legal assistance, safe houses and schools, as well as spiritual support through Christian literature, training and resources.
We are looking for a Data Quality Officer with experience of maintaining data, who will support the Data Team by conducting systematic maintenance of our supporter and other data to a high standard of up-to-date accuracy and completeness.
This role will focus on finding efficient ways to identify data anomalies and their causes and collaborate with colleagues to resolve quality issues and improve systems with attention to security and confidentiality. You will use your initiative to formulate analysis which reveals and monitors anomalies in our data and will collaborate with the Data Analyst to create and carry processes to improve them.
You will discover that we work here because we are passionate about the mission of Open Doors. This role will provide you with the opportunity to use your God-given character and talents to contribute to the work of Open Doors, and to be part of a team that seeks to grow the charity, to support and encourage one another, and uphold the Christian values that we base our identity on.
If you are a Christian* looking to make an impact and seeking a new challenge in 2022, here's how to apply:
View the job description for this role
Apply online with a cover letter which explains why you are suitable for this role, along with the application form, here: APPLY ONLINE
If you experience any issues during the online application process or need to ask any further questions please email: recruitteam@opendoorsuk.org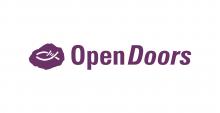 Job Location Type
Office Based
Salary
Between £21,484.00 and £24,673.00 pa
£13,109 - £14,804 pa pro-rata (£21,848 - £24,673 FTE)
Contact Phone
01993460015
Contact Email
recruitteam@opendoorsuk.org