Gap Year
Min y Don Christian Adventure Centre
Gap Year
This is a one year scheme giving you the opportunity to serve God in Christian Ministry whilst gaining a wide range of experiences. During this year you would live as part of our Christian community here at Min-y-Don. 
If you are interested in applying, please email us for an application form. We are primarily recruiting for September 2022, however, there is no specific time in the year when Gap Years begin, so vacancies depend largely on how many spaces are available on our Team at any given time.  If you are interested in a start date other than September 2022, please contact us to see what spaces are available.
The main aim of the year is for you to serve God with us here and be discipled, growing in your faith as a Christian. If you wish, there would also be opportunity to gain experience towards outdoor pursuits qualifications in kayaking, canoeing, rock climbing, mountain walking and bushcraft.
Our Favourite Parts of Min y Don from Min y Don on Vimeo.
Gap Years at Min y Don also provide opportunity for the following:
Christian youth and children's work

Instructing and assisting with outdoor pursuits activities

Preparing and delivering a Christian message to guests and local youth

Working and living as a team

Taking an active part in Tywyn Baptist Churches mission and community

To gain outdoor pursuits qualifications including First Aid
With our Christian ethos and the nature of the work at Min y Don there is an occupational requirement for applicants to have an active Christian Faith.  Successful applicants will take part in weekly team prayer meetings and discipleship group as well as planning and delivering short teaching times to school and family groups on Christian principles and values.
Whilst many Gap Year programmes ask you to raise money and pay to join it – we enable you to live and work as part of a team. Your pay each month takes into account all your living expenses whilst you reside on-site here at Min-y-Don. You would also have paid holiday entitlement.
Min y Don is situated in a stunning area of the Snowdonia National Park.
To learn more about the Centre and its work please visit minydon.com or call 01341 250433 or email holidays@minydon.com for further details and an application form.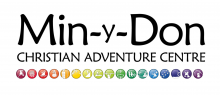 Min y Don Christian Adventure Centre
Job Location Type
On Location
Keywords
Gap Year Christian
Outdoor Centre
Youth & Children's Work
Gap Year
Christian
Team
Residential Ministry
youthwork
Outdoor Pursuits
school
Contact Phone
01341250433
Contact Email
holidays@minydon.com