Church and Tenant Empowerment Worker
About the role 
We are looking for someone to join the Peterborough Team for 40 hours a week as a Church and Tenant Empowerment Worker.  
Initially we envisage this role as working with existing tenants and partner churches – each house is partnered with a local church – to train, equip, encourage for their role in mentoring, befriending and giving practical support to tenants.  
The role is a varied role with no two days looking the same. You will be responsible for five houses, up to ten tenants, and potentially 3-4 churches. You would work within a supportive team with accountability and a degree of autonomy as you manage your diary.  
With additional houses and potential churches coming on board later in the year you will have the opportunity to assist in training church volunteers and helping them prepare houses.  
You will also be supporting our tenants who have experienced homelessness. Tenants may be singles or families with support needs and you would be involved in empowering them towards a fulfilled life.  
About you 
For this role, you would be someone with a passion for the homeless and our values, who can work with church leaders and church members. You will need to be able to work with tenants with support needs, including poor mental health, past offending, and drug and alcohol dependency issues. We value good listening skills. The ability to work in a flexible team and learn new skills is important as we foster working within a strong supportive team. 
We love diversity and we value your unique skills, strengths, knowledge and experience. Becoming one of our team may realise your potential, helping us to raise our performance in empowering those we serve. 
About us 
We provide not just shelter and housing know-how, but also the friendship of a church. Together with over 50 churches, we provide direct support to people whom others have often given up on. Our first home had a real heart for men coming out of prison Homes are now available for a wide range of people experiencing homelessness: people in recovery from addiction, people sleeping rough, women and children fleeing domestic violence, people coming out of rehab, former prostitutes, refugees, those suffering mental health issues and survivors of human trafficking.  
We are now partnering with churches across the country. We encourage others to use our model by franchising the idea. Our vision is for every church to lovingly provide the homeless with a home. The tragedy of homelessness is in every community. We believe that with our help, every church can do something about it.
To apply 
Please see www.hopeintoaction.org.uk and follow About us > Work With Us for all the details. 
Please contact Rachel Patterson via 07762 738184 for an informal discussion about this role, after 26th June 2022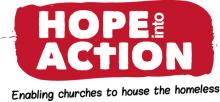 Job Location Type
Office Based
Location
Peterborough, GB
Keywords
Homelessness
Support Worker
Contact Phone
07762 738184
Contact Email
rachel.patterson@hopeintoaction.org.uk