PASTOR FOR KINTORE COMMUNITY CHURCH
Hillview and Kintore Community Church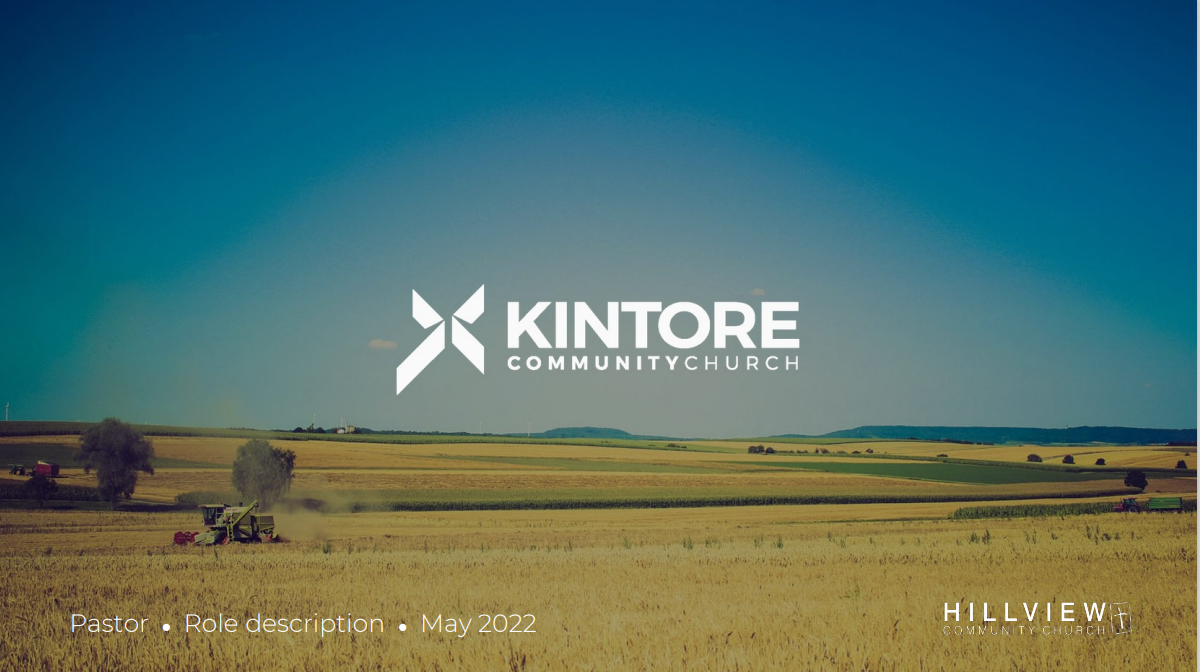 Background: Kintore Community Church was planted from Hillview Community Church on 15 January 2017. The church currently consists of around 60 children and adults gathered from Kintore and the surrounding area. We meet for worship each week on a Sunday morning and there are currently two mid-week small groups. Our prayer and desire is to be a community rooted in devotion to Jesus, increasingly sharing His love with Kintore and the surrounding region; and it's especially in this area which we hope someone can come and bring further vision and pastoral leadership.
What type of role is this? We're praying for a Pastor with a creative and pioneering spirit. The opportunities for reaching out with Jesus' love and good news are huge, and we are praying for someone of great vision and passion to wisely lead the church family forward in this Kingdom work.
We recognise the importance of the pastor being locally rooted, with a heart for hospitality and community engagement.
While a pioneering spirit is crucial, we also see the need for this person to lead collaboratively and with a pastoral heart. We give thanks to God that the church has thrived through the difficult months of covid, and even coming out of that and through a change of leadership, there is a sense of new growth and developing fellowship and heart for ministry in the church family.
Are there others to share in ministry leadership with? Yes, there's a small team of elders who share the calling to leadership specifically in Kintore. But there is also a broader context of support. Planted from Hillview Community Church (a congregation around 12 miles away), there remain strong family connections between both churches, and as that wider church family we hope to continue to support one another in a number of key ways. One of the most significant ways is that there are two other pastors on staff who the Kintore Pastor would work in close relationship with week by week.
Within the eldership, as well as Kintore-specific meetings (which the Kintore Pastor would lead), there are broader all-elders meetings where we prayerfully consider the wider context of what God is calling us to. So while the vast majority of the role would be focussed on the developing ministry in Kintore, with lots of freedom to shape the strategy and direction of that work, this new Pastor would come in as part of a broader staff and leadership team.
The attached document contains further information on the person we believe will fulfil this role.

Hillview and Kintore Community Church
Contact Phone
07852972128
Contact Email
scott.macdonald@hillview.cc