Missional Youth Church Network - Strategic Lead
The Role
The Strategic Lead will work with the Director and MYCN team to expand the Network, utilising the different specialist gifts and experience of each member. Using their experience of pioneering and evangelising young people, making disciples and growing churches, and considering the latest research, examples of best practice and the Fresh Expressions learning journey.
Missional Youth Church Network
The Missional Youth Church Network (MYCN) was established out of a desire to see churches grow their ministry to young people and equip, develop and encourage them to be leaders in mission.  The bold and exciting vision of the Network is to pioneer and establish missional youth churches, enabling 11-18 year olds to build community and discover faith in Christ. We've involved in over 70 ongoing conversations with churches and/or dioceses who want to explore missional youth church network. We're working with more than 30 local schools, churches and community projects have already begun working together to reimagine church with young people.  A Learning Community of 30 youth leaders has also been established.
Church Army Vision and Values
Our vision is for everyone, everywhere to encounter God's love and be empowered to transform their communities through faith shared in words and action. Everything we do is underpinned by our values.
Genuine Occupational Requirement
Under the provisions of the Equality Act 2010 there is a requirement that the post holder is a Christian with an active faith in Jesus Christ. The successful candidate must be in agreement with the vision and values of Church Army and the office of the Archbishop of York.
What Next?
To apply, please see the advert on our website and download our Church Army Faith-Based Application Form. Once completed please send to recruitment@churcharmy.org.
We can't wait to hear from you!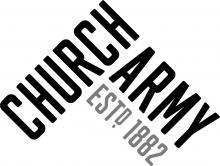 Job Location Type
Home Based
Salary
More than £24,480.00 pa
Contact Phone
01142521665
Contact Email
phoebe.leaver@churcharmy.org